Director Murphy & Rev. Christie, a long journey for marijuana reform.
_________________________________________________________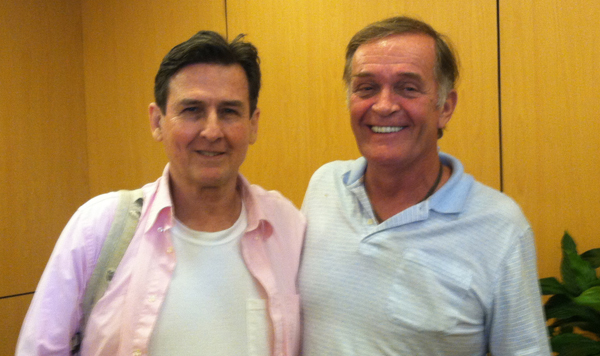 Long time friends and marijuana advocates, Reverend Roger Christie and Director Brian Murphy, celebrated a long awaited reunion in Honolulu, Hawai'i, on September, 19th, 2014. This was an important day for both men;
In the morning, in Maui Second Circuit Court, Director Murphy plead "no contest" to charges arising six years ago from his work at PWT.
A few hours later, Director Murphy flew to Honolulu to have lunch with his friend, and co-founder of PWT, Rev. Roger Christie. Rev. Christie is staying at a halfway house on Oahu, to re-adjust to life, after living for 4 1/2 years in a holding cell, at the Honolulu Detention Center.
Today, we share Rev. Christie's joy at being reunited with his wife, family, and friends.
Director Brian Murphy & Reverend Roger Christie, at Patients Without Time, preparing for

May Day celebrations

in 2005.
Murphy supports medical patients; "Cannabis a holy sacrament" says Christie.
Over a decade ago,
Brian focused on designing legislation, and founding organizations that protect the rights of medical patients to acquire and use reliable medical cannabis products.
Roger, a deeply spiritual man, focused on individual religious rights for citizens who consume marijuana in the practice of their religious ceremonies.