pwt news
Maui's Medical Marijuana Headlines 2000 to 2016
~~~~~~~~~~~~~~~~~~~~~~~~~~~~~~~~~~~~~~~~~~~~~~~~~~~~~~~~~~
2000

Toking a Stand Medical marijuana activists are tightening the joints on an underground distribution network. March 31, 2000, by Patrick Tracey, The District Line, Washington DC City Paper. A man who wants to remain anonymous (aka Brian Murphy) is moving bag after bag of midgrade commercial marijuana --but only if you have a note from your doctor recommending your use of marijuana for medicinal purpose. O'Toole (aka
Brian Murphy) spends a good chunk of his time helping Patients Without Time

President Steve Pardieck and ACT UP/DC co-founder Wayne Turner launch a grass-roots "medipot" movement. ...O'Toole (Murphy) braves the rain of a miserably cold evening for one of his weekly house calls to "patients" too ill to leave home. O'Toole uses a homemade marijuana "vaporizer" to administer his medicine to a man with AIDS wasting syndrome.

Hawaii Becomes First State to Approve Medical Marijuana Bill, June 15, 2000, THE NEW YORK TIMES.

Hawaii ... became the first state to use legislation to approve the... use of marijuana for medical purposes

. While signing the bill into law, Gov. Benjamin J. Cayetano said it was one aspect of his effort to make Hawaii the health care center of the Pacific. ''I'm glad to see this bill before me,'' Mr. Cayetano said. ''My own feeling is, more states are going to come on.'' Hawaii is the eighth state to decriminalize the use of medical marijuana, but the previous seven states did so through ballot measures.
~~~~~~~~~~~~~~~~~~~~~~~~~~~~~~~~~~~~~~~~~~~~~~~~~~~~


2003

Ice Storm, Epidemic of the Islands, Police say "ice" fuels rise in crime and violence. Sept. 14, 2003, by Nelson Daranciang, Star bulletin. Honolulu police say methamphetamine is the driving force behind the state's high property crime rate -- addicts stealing to support their ice habit. Hawaii had the highest larceny theft rate and the second-highest overall property crime rate in the nation in 2001. Police also say ice is behind many child-neglect cases. On Maui, ice is responsible for more arrests than any other drug. However, marijuana is responsible for more cases and seizures. "It's the more popular drug, more widely used," said Maui Police Chief Thomas Phillips. Ice is more prevalent than marijuana on Kauai even though there are more marijuana arrests, said Sgt. Dan Abadilla, Kauai Police Department Vice Section.

Medical marijuana: Breathing uneasy, Despite a Supreme Court ruling, questions remain about the legality of using pot as medicine, Nov. 16, 2003, by Lee Catterall, Star Bulletin.

The number of patients registered to grow and use the plant in Hawaii has grown to 1,145

...according to Keith Kamita, the state's narcotics enforcement chief and registrar of the certification program in the state Department of Public Safety. The Hawaii statute, enacted in 2000, ...allows certified patients to possess three mature marijuana plants, four immature plants and as much as three ounces of marijuana,

but they apparently are not allowed to obtain marijuana other than by growing it. "The law is silent on that," Kamita says.

It remains illegal in Hawaii for anyone to sell or buy marijuana.
~~~~~~~~~~~~~~~~~~~~~~~~~~~~~~~~~~~~~~~~~~~~~~~~~~~


2005
Cannabis advocacy group empowers patients to manage their own medication, Haleakala Times, February 2, 2005 by Rob Lafferty. "Patients Without Time is a (Maui-based) medical cannabis advocacy and advisory organization. Since March of 2004 they've been guiding people through the process of obtaining a "Blue Card", a Hawai'i state license to legally use cannabis as medicine. Membership now includes more than 240 Maui County residents. Daily operations are being managed by Brian Murphy and a few volunteers, who sign up new members and educate them about the state licensing application. Murphy plans to introduce a proposal soon to the Maui County Council that could lead to a ballot initiative in 2006 that will clarify the cannabis law..."
Maui County asked to reform marijuana policies, 6-07-2005 | Don Gronning | Haleakala Times. "Patients Without Time, a private medical marijuana advocacy group, has submitted a resolution to the Maui County Council asking the county to tax and regulate marijuana, lobby the state for its legalization and direct police to place a low priority on enforcing marijuana possession laws."
U.S. attorney in Hawaii says practice is 'dead,' June 7, 2005 By Brian Perry, Assistant City Editor. "Roger Christie, a Hilo resident and well-known marijuana advocate, was in Paia on Monday, working part time as the spokesman for Patients Without Time, a medical marijuana consultancy group... PWT helps 400 medical marijuana patients on Maui. (Brian) Murphy, a former Washington, D.C., resident who moved to Hawaii 18 months ago because of its medical marijuana program, ...would work to try to change the federal marijuana law in Congress.
The Cannabis Hour of Power with Suzie O and Roger Christie, The Cannabis Hour of Power with Roger Christie. Roger talks with Brian Murphy of Patients Without Time. July 12, 2005.

County ordinance would de-emphasize pot enforcement, October 8, 2005, by Roger Sussman, Letters to the Editor, the Maui News. "There is proposed legislation before the Maui County Council and County Corporate Counsel with a clear plan for defacto decriminalization of the use of cannabis on Maui. This exceptionally sane legislation would regulate and tax certain controlled adult use of cannabis and permit truly adequate supply for medical cannabis users… this legislation calls for cannabis use to be designated as our Police Department's "lowest enforcement priority." To view the proposed cannabis ordinance, please go to http://www.patientswithouttime.com."


~~~~~~~~~~~~~~~~~~~~~~~~~~~~~~~~~~~~~~~~~~~~~~~~~~~~
2006


Taking it to the Streets. Kicking off the local medical marijuana legalization campaign, Haleakala Times, Jan. 19, 2006, by Cheryl Ambrozic-Mooz. "For the last two years, the medical marijuana advocacy and advisory organization's (PWT's) small staff has taken on the big job of helping qualified medical patients with their medical marijuana needs. "Over 90 percent of Maui County medical marijuana patients cannot meet their own medical marijuana needs." Murphy said his group will canvass public meeting, rallies, special events and concerts, as well as people traveling down Kahului's Dairy Road." Watch video: St. Paddy's Day 2006>




MAUI - Citizens for Democracy, marijuana ordinance, Feb. 3, 2006, by Cheryl Ambrozic-Mooz "This is about helping the sick in Maui County." While Hawaii is one of eleven states to legalize medical marijuana to treat certain debilitating illnesses, in Maui County, there is no legal, convenient or safe way for the sick to obtain medical marijuana."
Event launches marijuana ballot initiatives, February 4, 2006, The Maui News. "Patients Without Time, ... helps patients who use medical marijuana for pain and appetite problems. "I (Brian Murphy) have 680 patients (PWT medical marijuana co-op memebers) who need help," he said. To get (initiatives) on the 2006 ballot, Murphy's group needs to collect for each initiative 8,301 signatures of registered Maui County voters"
Political Action Committee seeks to ease Maui marijuana laws, Feb. 15, 2006, Haleakala Time, by Don Gronning. "If Brian Murphy has his way, Maui County will become a refuge for medical marijuana patients and stop putting people in jail for responsible possesssion and use of marijuana."
Medical marijuana, tax reform fall short of ballot, August 30, 2006, The Maui News, By ILIMA LOOMIS. Murphy said his group was considering filing a complaint against the Maui County Clerk's Office over "hurdles" he felt improperly hampered the signature-gathering process."




~~~~~~~~~~~~~~~~~~~~~~~~~~~~~~~~~~~~~~~~~~~~~~~~~~
2007

Legal pakalolo could bring in $33M, March 2, 2007, by Craig Gima, Honolulu Star Bulletin. Legalizing marijuana would generate up to $33 million a year in tax revenue and savings, according to a study by a University of Hawaii-West Oahu professor… William Boyd analyzed enforcement and court costs of current laws and estimated that the state and counties spend $9 million to $10 million annually on marijuana cases. Using cigarette and alcohol tax revenues, Boyd also calculated that the state could see between $4 million and $23 million in tax revenue if marijuana were legalized and taxed.

What happened to Maui's initiative process?, May 31, 2007, Maui Time, by Rob Parsons. "MCCFDIA and Patients Without Time (PWT) launched efforts after finding no County Council members willing to sponsor a decriminalization bill or even consider expanding the allotment system for some 700 medical marijuana patients on Maui so they could grow sufficient quantities of marijuana for their own use."

Medical marijuana opposition from pharmaceutical firms, August 1, 2007, The Maui News, Letters to the editor, by Brian Murphy. "Every day I hear patients in our office describe the pain and misery from suffering side effects of pharmaceutical prescriptions. It would be difficult to endure if it weren't for all the stories I hear from patients who are enjoying a much greater quality of life once freed from those pharmaceuticals and are able to enjoy the relief offered by medical cannabis."

Patients saw organization as being very compassionate, November 30, 2007, The Maui News, Letters to the Editor, by Geoff Moore. "Patients Without Time, lead by Brian Murphy, has been very compassionate trying to help these patients by giving them guidance through the legal system and fighting to change the laws so the same medical patients do not have to obtain their medicine on the streets."

Patients Without Time discontinues medical cannabis support for patients, December 7, 2007, VIEWPOINT:, The Maui News, by Brian Murphy. "Patients Without Time came about to help patients navigate current laws while trying to create more enlightened legislation... Unfortunately, we at PWT apologize that we must discontinue our medical cannabis support services... we refuse to go toe-to-toe with an exploitive black market... that respects only money. Instead, we are redirecting our efforts toward engaging in the democratic process..."
~~~~~~~~~~~~~~~~~~~~~~~~~~~~~~~~~~~~~~~~~~~~~~
2008

HELP FIX FLAWS IN THE MEDICAL MARIJUANA LAW, Jan. 30, 2008, by Jay Greathouse, Haleakala Times. Murphy shut down PWT after... The appearance of a profit-based, California-style dispensary in Kihei... and... Brian's home being broken into... and (he) was physically assaulte... As a result, Murphy... shifted his focus to the electoral process in an effort to help... make medical marijuana safely available to legitimate patients again."
Medical Marijuana Farm Pitched for Maui | KHON2 FOX | Local Top Stories, Jan 31, 2008, by Gina Mangieri. "Medical marijuana could be grown in industrial settings if a bill in the legislature goes through. A proposed bill would establish a secure growing facility on Maui on several acres, and patients could lease land cultivated by what the draft calls a "certified facilitator." The whole idea is to give an adequate and safe, secure location for parents to get their marijuana," said Brian Murphy."

House Discusses Bill to Grow Medical Marijuana on Maui, Feb 01, 2008, Hawaii News Now l KGMB, By Tracy Gladden. (Hawaii's medical marijuana) Patients with a certificate to use medical marijuana have to grow it themselves or take part in illegal activity to acquire the plant. The law remains silent as to how patients actually obtain the marijuana... Friday, the State House discussed a proposed bill to have a secure growing facility for medical marijuana on Maui... Keith Kamita is the Chief of Narcotics Enforcement for the Department of Public Safety. "In Hawaii we have 4,047 patients using the medical use of marijuana program… "What were afraid of as law enforcement is that your opening the door to a buyers club like what California has where they are already having problems.

Medical Marijuana Update, Feb. 12, 2008, Haleakala Times, by mccfdia. On January 31, 2008, Maui Chief of Police Thomas Phillips stated, "The Maui Police Department is the only Police Department on the island, and we would not wish to partake in nor support an operation that is not in compliance with federal law.".
Lawmaker addressing medical marijuana, Feb. 1, 2008, by Helen Altonn, Honolulu Star-Bulletin. Although marijuana for medical purposes is legal in Hawaii, patients authorized to use the plant are being hassled by law enforcement agencies and others, said Maui Rep. Joe Bertram III. The major problem is patient access to marijuana, Bertram said... One of his measures (House Bill 2678), (is) being heard toda... Kamita said, 4,047 Hawaii patients had received medical marijuana cards, and 368 caregivers and 124 physicians are participating in the program. He (NED Chief Kamita) said a growing facility would violate federal law, and warned of other dangers. Joining Bertram at a news conference, among others, was Brian Murphy, executive director of Patients Without Time.
(Voter Registration Drive) Caucuses a one-day voter registration record, February 25, 2008, by Brian Murphy, The Maui News. When the Maui Democratic Party asked the Maui County Citizens for Democracy in Action to provide the deputy voter registrars for its 2008 Democratic Party caucus venues, we were happy to assist... we succeeded in registering more than 900 voters, making this the single most successful day in our 2008 Voter Registration Campaign.
Debate Continues Over Changes in Hawaii's Medical Marijuana Law, Mar 18, 2008, by Paul Drewes, Hawaii News Now, (KHNL). It's a tempest over pot as lawmakers debate changes in Hawaii's Medical Marijuana law. Patients want to preserve their rights to use what they see, as a vital medication. Some claim individual's rights are going up in smoke, because the law is not enforced equally around the state. "Out on maui, people are being robbed by police under the cover of the law." The Maui Police Chief was not available to comment on departmental policy. But in earlier testimony, Chief Thomas Phillips stated Maui Police do "not believe in supporting the Medical Marijuana Program in its entirety."
Lolo Laws, Public initiative would allow Maui County farmers to grow medical marijuana, April 11, 2008, By Brandon Roberts, The Molokai Dispatch. In 2000, Hawaii state legislature ... enacted SB 862 to approve the use of medical marijuana, though the law lacks the proper language on how to acquire the medicinal herb. Democracy In Action (DIA), and Patients Without Time (PWT) are two organizations stoking a county initiative to gather 8,000 signatures by April 20. The initiative ... would help clarify SB 862, as well as establish the supply, delivery, and regulations of medical marijuana in Maui County. "Compassion should always come first," said Murphy, who is also a disabled United States Veteran.

Petition Supports Medical Marijuana Growing Facility on Local Farms, April 30, 2008, by George Peabody, Molokai Advertiser. Gloria Molica and Brian Murphy of Patients Without Time, Democracy in Action and Maui NORML, were on Molokai May 8-9 to educate people about medical marijuana, and obtain signature support for a proposal to allow local family farmers to grow medical marijuana for patients in Maui County. She said that Brian will be telling people about what's been happening at the state level, petitions for the next election, the NEW growing guidelines.
High in Hawaii, August 24 2008, by Guy Ragosta, Cannabis Culture Magazine. At Patients Without Time, Brian (Murphy) provides his patients with expertly farmed organic, medical marijuana that eases their pain and their lives. But outside Maui, no medical marijuana dispensaries exist in Hawaii. In partnership with Maui's community of healers, doctors, and caregivers, we encourage herbal medicine as an alternative to more expensive and risky pharmaceutical drugs. Innovative drug reform will focus on prevention, education, treatment alternatives, reduced crime, reduced incarcerations, and reduced strains on our judicial system/police department. A strong community effort will be required to register voters and gather signatures for a successful petition for 2008."
The Hawaii State Legislature House Committee on Health addressed Medical Marijuana, August 25, 2008. Hawaii State Representative John Mizuno, Vice Chair of the Health Committee, and Hawaii State Representative Joe Bertram III from Maui moderate this meeting discussing the recent veto of HB2675 (by Governor Linda Lingle) and exploring distribution alternatives for medicinal marijuana patients. Brian Murphy from Patients Without Time, a medical marijuana support and advocacy group based on Maui, testified, "We were very disappointed in the task force not going forward."




Seven Maui men arrested for marijuana drug trafficking, Nov 13, 2008, Hawaii News Now. "Seven Maui residents were arrested and charged for marijuana drug trafficking... Officials say a total of about 335 marijuana plants, 2,300 grams of processed marijuana, 4,830 grams of unprocessed marijuana, 32 grams of hashish, 100 marijuana laced candies, one vehicle and more than $14,000 in cash were recovered during the investigation. The arrest of the men was a result of a two-year investigation called "Operation Weedkiller."

7 Maui Men Accused Of Exploiting Medical Marijuana Laws Men Face Drug Trafficking, Promoting Drugs Charges, November 14, 2008, ABC, KITV News. Under "Operation Weedkiller" local law enforcement officials arrested... Murphy, the director of Patients Without Time, a strong advocate for medicinal marijuana laws... Maui police charged Murphy and 7 other men with a number of offenses including drug trafficking.

Medical marijuana advocate arrested in sting, November 14, 2008, by Christie Wilson, Honolulu Star Advertser, Advertiser Maui Bureau. The head of a medical marijuana advocacy group on Maui and six other men have been charged with running a drug trafficking ring. State Rep. Joe Bertram III, D-11th (Kihei, Wailea, Makena), yesterday defended Patients Without Time … Bertram said the organization provides marijuana to the disabled and critically ill patients legally registered under the state's medical marijuana law. "It's a godsend to sick people here on Maui. … They were getting a medicine that's safe and reliable and now it's gone,"... Bertram said the arrests underscore "... the difficulty patients have in legally accessing marijuana.

Lawsuit: Police illegally seized medical pot. Haiku man files civil complaint before his arrest, drug charges, November 15, 2008, by LILA FUJIMOTO Staff Writer, The Maui News. "A little more than a week before he was arrested as the alleged head of a marijuana trafficking organization, Brian Murphy filed a lawsuit complaining the Maui Police Department was interfering with the operation of Patients Without Time, the Paia-based medical marijuana advocacy group he founded... the first search warrant was executed at Murphy's residence Dec. 28, medical marijuana was confiscated and destroyed... Murphy said additional political funds and (a) truck, were taken by police when the second search warrant was executed Jan. 25. Along with processed marijuana and paraphernalia, police seized "mother" plants from which other Patients Without Time members would take cuttings, Murphy said. " Read copy of complaint>

4 accused Maui marijuana traffickers in court tomorrow, November 17, 2008, Honolulu Advertiser, Advertiser Staff. "Bail hearings are scheduled tomorrow for four of seven men charged last week on Maui with operating a drug-trafficking organization that allegedly exploited Hawai'i medical marijuana laws… The investigation was spearheaded by the Hawai'i Narcotics Task Force, Statewide Marijuana Eradication Task Force, and Hawai'i Inter-Agency Mobile Police Apprehension Crime Task Force, comprised of vice officers from the Maui, Big Island, Honolulu and Kaua'i police departments. They were assisted by the state Narcotics Enforcement Division, the Drug Enforcement Admin, and Maui police Special Response Team and Criminal Intelligence Unit."

Charges 'fabricated' - marijuana grower, Director says that advocacy group 'forthright' with police, Nov. 19, 2008 - By CLAUDINE SAN NICOLAS, Staff Writer, the Maui Ne Brian Murphy, the director of a medical marijuana advocacy group based in Paia, said … "We've been as forthright as possible with police. . . . We never were hiding anything," Murphy said following a bail hearing held Tuesday in 2nd Circuit Judge Joseph Cardoza's courtroom. Murphy, who posted $100,000 bail following his Nov. 11 arrest, denies all charges… Murphy asked Judge Cardoza to redact or black out individual names in documents outlining charges against him. Murphy said he was concerned that his conversations with "legitimate medical marijuana patients" were in a public document that included their names and phone numbers."

Maui owie - Crackdown on the Valley isle, Dec 31, 2008, Honolulu Weekly, by Greg Mebel. "A 2000 (Hawaii) law allows patients who would benefit from it to cultivate their own marijuana… to the federal government though, marijuana is classified as a drug with no medical applications… the law may say grow your own, … in reality most don't or can't. "The current law's kapakahi (or one-sided)," says Brian Murphy, founder of PWT …. PWT has been trying to smooth these wrinkles for Hawai'i residents. Besides disseminating information, PWT received marijuana from caregivers and gave it to patients. Both were members of the (PWT) cooperative, and patients paid a "storage fee" which was waived if a patient couldn't pay, according to Murphy. Hawai'i lawmakers have indicated a strong interest in looking at the need for programs like Murphy's PWT.



~~~~~~~~~~~~~~~~~~~~~~~~~~~~~~~~~~~~~~~~~~~~~~~~~~~~~

2009

Legislation needed to correct deficiency in the Hawaii medical marijuana law, January 4, 2009, VIEWPOINT by BRIAN MURPHY, The Maui News. At age 34, I suffered a stroke. The doctors at the... Veterans Affairs hospital prescribed many pharmaceutical drugs. None of them provided any relief,... One of my doctors at the V.A. informed me that cannabis had a successful history in treating complex migraine seizures. I tried it and found immediate relief. Within a few days I had stopped taking all the pharmaceuticals, and I felt much better. Then came the realization that most patients cannot acquire this medicine... I started working with the National Organization for Reform of Marijuana Laws. Over 13 years of working with NORML... After spearheading campaigns in both California and Washington, D.C., I came to Maui. I founded Patients Without Time... PWT quickly expanded into an educational and advocacy group, giving birth to Maui County Citizens For Democracy In Action.
'Careful what you ask for,' says police chief - Medical marijuana: Growing controversy, February 8, 2009, by LILA FUJIMOTO, Staff Writer, The Maui News. "In the wake of recent arrests leading to the shutdown of a Paia-based medical marijuana advocacy group (PWT MMJ Co-op), proponents are again proposing changes to Hawaii's medical marijuana law to allow secure growing facilities so patients can legally obtain marijuana. But law enforcement officials, including Maui County Police Chief Tom Phillips, continue to oppose such efforts to change Hawaii's medical marijuana law. Because it's illegal under federal law to possess and distribute marijuana, large marijuana-growing operations in the state could be subject to federal prosecution, including forfeiture of property used for marijuana cultivation, Phillips said."
Going to pot, Why can't we get medicinal marijuana to the patients who need it? FEB 18, 2009, by RAGNAR CARLSON, Honolulu Weekly. "Hawaii law allows patients to possess marijuana, but does not create a way for them to obtain it. Unless a patient or an approved caregiver can successfully grow their own- no easy task, especially when you consider that there is no clearly legal path to obtain the seeds with which to begin- they are out of options... And all too often, these people do turn to the black market. Brian Murphy, a Maui (activist) whose non-profit Patients Without Time organization helped provide medicine to more than 1,000 people over the past four years before being shut down by police last year. Bertram said he also supports a bill that would decriminalize possession of less than 1 ounce of marijuana, citing a study saying that (Hawaii) state and county law enforcement agencies spend $4.1 million a year to enforce marijuana possession laws.
Maui man says he thought marijuana distribution operation was legal, September 17, 2009, by Lila Fujimoto, Maui News. "A Wailuku man who said he didn't know there was anything illegal about an organization (PWT) that provided him with medical marijuana was ordered to pay a $300 fine and perform 80 hours of community service for his part in what police described as a ring that illegally distributed the drug.


~~~~~~~~~~~~~~~~~~~~~~~~~~~~~~~~~~~~~~~~~~~~~~~~~~
2010
High Support for Medical Marijuana, Jan. 18, 2010, ANALYSIS By GARY LANGER, ABC NEWS. Eight in 10 Americans support legalizing marijuana for medical use and nearly half favor decriminalizing the drug more generally, both far higher than a decade ago. With New Jersey this week poised to become the 14th state to legalize medical marijuana, 81 percent in this national ABC News/Washington Post poll support the idea, up from an already substantial 69 percent in 1997. View chart and questionnaire.

Wide range of marijuana bills offered, January 22, 2010, By CHRIS HAMILTON, Staff Writer, The Maui News. More than 20 bills related to restructuring and often relaxing marijuana drug laws are up for discussion. West Maui Rep. Angus McKelvey said he's heard marijuana is a $1 billion underground industry, and he's open to examining whether to legalize and tax it... We need to make the laws clearer," Bertram said. "We have to take all the guesswork out because the interpretation has been up to law enforcement so far." This lawmaking session features bills... to establish... taxes ... and allow family farmers and nonprofits to grow marijuana, or cannabis.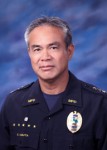 Police chief against relaxing marijuana laws, Yabuta says it would send wrong message to youths and damage neighborhoods, January 22, 2010, By CHRIS HAMILTON, Staff Writer, The Maui News. Maui County Police Chief Gary Yabuta said he believes (relaxed marijuana) measures... would send the wrong message to kids and damage neighborhoods. California's medical-marijuana dispensaries... have imposed (damage) on surrounding neighborhoods... communities, very much like Maui, have been erased... and are now plagued with a marijuana-driven... violence." South Maui Rep. Joe Bertram III and Sen. J. Kalani English ...said the most substantial bills in the hopper would decriminalize small amounts of marijuana and legalize medical-marijuana dispensaries.
Hawaii legislature considers loosening marijuana laws, Mar 11, 2010 , By Tim Sakahara, HAWAII NEWS NOW. Three marijuana bills are making their way through the Hawaii State Capitol. One bill would take away criminal penalties for anyone caught with less than an ounce of pot. Another bill would allow medical marijuana patients to have more plants and ounces. A third bill would allow medical marijuana dispensaries with the government approving permits for shop to open. That bill cleared another committee today, despite opposition from police and prosecutors. Even in the worst of economic times the state attorney general, speaking on behalf of all county police chiefs and prosecutors says that's a terrible idea.
LEGISLATION TO CLARIFY CANNABIS LAWS NEEDED, April 18, 2010 by Mary Overbay, Letters to the Editor, The Maui News. My dear husband was a disabled WWII veteran and a legal marijuana patient. He died of pancreatic cancer in 2007. My husband was proud to be a member of the Patients Without Time cooperative. Now, patients on Maui have nowhere to fill their cannabis prescriptions. This is a critical medical issue and a matter of patients' rights. Patients should not fear arrest, prosecution and persecution while enduring radiation treatment, chemotherapy or any severe illness.
Marijuana dispensary idea dies, May 1, 2011, The Associated Press, HONOLULU (AP). A conference committee of House and Senate lawmakers couldn't agree on how to start a dispensary test-run before a Friday deadline, killing the legislation for the year. The measure would have started a five-year pilot program for a medical marijuana dispensary on an unspecified island. Lawmakers said that the issue deserves further study and may be reconsidered next year.
Six reindicted in connection with cannabis trafficking, July 15, 2010, By LILA FUJIMOTO, Staff Writer, The Maui News, MAUI, HI. "Six men have been reindicted on criminal conspiracy charges in connection with a marijuana trafficking operation linked to a Paia-based medical marijuana advocacy group. In April, 2nd Circuit Judge Joseph Cardoza dismissed the case against the six defendants, saying there was a flaw in the procedure used to obtain the grand jury indictment. The dismissal was based on the grand jury testimony by Keith Kamita, chief of the state Narcotics Enforcement Division, who administers the state medical marijuana law. Brian Murphy, 53, of Haiku, who founded and heads Patients Without Time, the organization at the center of the probe, also was indicted but hasn't been served with the warrant."
Free Roger Christie and the THC Ministry 13. Roger Christie, founder of the THC Ministry, and 13 church members were arrested by federal agents on July 8, 2010 and sent to Honolulu. All 13 people have been released on a personal recognizance bonds. Roger has been denied bail by the District Court and then again by an appeal to that ruling, despite a recommendation for a $50,000 bond by the federal Pre-Trial Services.
Medical Marijuana in Hawaii - Bad law, bad policy and tragic results, Aug. 5, 2010, by Ken Pinsky, the Moon Over Haleakala. A decade ago the Hawai'i State Legislature passed the Compassionate Use Law - It allowed medical marijuana patients to have marijuana – but not to legally GET it... thousands of people who have a state-granted legal right to use marijuana must break the law to get any. To fill this huge need, on Maui, Brian Murphy organized Patients Without Time. (He) attempted to fill this quasi-legal and deeply humanitarian community need for medical marijuana. They were allowed to operate in full public view for years. They tried both to move public policy in a humanitarian direction and to provide a service for people who were suffering and couldn't help themselves.
Medical Marijuana under assault by Feds. Hawaii has become the front line of the DEA's war on marijuana culture. Pa'ia's Patients Without Time, a MMJ cooperative, is about to go to trial, Aug. 10, 2010, by Tom Stevens, the Moon Over Haleakala. On September 13, medical marijuana advocate Brian Murphy and five other Maui men are scheduled to appear in 2nd Circuit Court on charges of criminal conspiracy related to marijuana trafficking. If convicted, the six could face prison terms. While California law allows cooperatives to take orders and distribute marijuana products, this is outlawed in Hawai'i. Thus patients who do not grow their own plants... have to contort their way through a tangle of conflicting (Hawaii) marijuana laws and policies.
Aloha Nui Loa, Happy Holidays From Your Friends For Justice! November 28, 2010, by Sara Steiner, Friends for Justice. Here is the Brian Murphy proposed legislation... for the upcoming legislative session... Brian is asking for feedback. (Murphy's 2011 Hawaii Medical marijuana 12 points Draft) transfers the administration of the program from the department of public safety to the department of health, establishes procedures for procurement, distribution, licensing, taxes, and other issues.


~~~~~~~~~~~~~~~~~~~~~~~~~~~~~~~~~~~~~~~~~~~~~~~~~~
2011
Anti-pot rally targets bills in Legislature, February 14, 2011, By Star-Advertiser staff and Associated Press, Newswatch. The Kauai Police Department, Kauai Anti-Drug Program, Office of the Prosecuting Attorney and community organizations will hold an anti-drug rally... in front of the County Building... because of legislation that seeks to decriminalize marijuana possession and distribution, legalize marijuana cultivation and commercial dispensaries, and eliminate the Board of Education's reporting requirements for students possessing marijuana, said a Kauai County news release. "If passed, these measures will result in increased violent crime, economic crisis and a rise in marijuana usage among our children," said Prosecuting Attorney Shaylene Iseri-Carvalho.
Maui Police seek public backing on laws relating to Medical Marijuana, February 14th, 2011, by Wendy Osher, Maui Now. Members of the Maui Police Department will be distributing informational pamphlets today and tomorrow as apart of an effort to gain public backing on their legislative priorities for 2011. The pamphlets detail expert testimony on medial marijuana and related health risks.
Police pan pot proposals, Pamphlet aims to enlist public in fighting changes in law, February 15, 2011, by MELISSA TANJI, Staff Writer, The Maui News. Maui Police Chief Gary Yabuta said the (Maui Police) department is taking a more "proactive stance" to show the public its opposition to marijuana by reaching out to Maui residents at public places. On Monday, officers went to Walmart to pass out pamphlets… The goal of the effort is to gather the public's support this legislative session and to ask people to submit e-mail testimony on the (Hawaii legislative) bills relating to marijuana. The Maui police department also is voicing its opposition to two Senate (medical marijuana) bills. The police pamphlet quotes agencies ...saying that "smoked marijuana has no currently accepted or proven medical use in the United States and is not an approved medical treatment." Read Maui police flyer stating "Marijuana is not Medicine"> , Read public reactions>
Hawaii state Senate sends five cannabis bills to the House, MARCH 10, 2011, by Hawaii Law Enforcement Against Prohibition (LEAP). March 8 the Hawai'i state Senate overwhelmingly passed five cannabis bills and sent them to the state House. SB 1460 - decriminalization of one ounce, SB 58 - increases ... patient-caregiver ratio, clarifies transportation, SB 175 - moves program from Public Safety to Health, SB 1458 - licenses compassion centers, SB 113 - creates a 3-year research program. Last year the Senate passed three bills, but... the police chiefs of the four counties lobbied the head of the Judiciary committee successfully and no public hearings were held. ... several weeks ago Maui Police officers were... handing out a fliers opposed to the current legislation.
Medical Marijuana and Collateral Damage: Pain, Suffering, Arrests, June 22, 2011, By Matt Rifkin, Hawai'i News Daily. "I would be remiss if I did not mention Roger Christie, Share and the THC Ministry. The ministry helped many medical cannabis patients by providing safe access. Roger has been held without bail for nearly a year now... despite the arduous legislative process, were able to elicit good testimony this year… However, less than 1% of the 8,000 patients state-wide submitted testimony, and we will have to do substantially better ... Brian Murphy's Patients without Time is on Maui. Patients need to sign up..."

Man in alleged medical pot case to pay fine in plea deal, July 31, 2011, The Maui News. Brian Igersheim, indicted in an alleged Paia-based marijuana trafficking operation will cooperate with the state and pay a $3,000 fine as part of a plea agreement to resolve his criminal case. He was among six men facing criminal conspiracy and other charges in connection with "Operation Weedkiller," which resulted in the arrests in November 2008. Police said the drug trafficking was linked to Patients Without Time, a medical marijuana advocacy group based in Paia. Police said the group exploited medical marijuana laws to illegally sell the drug to hundreds of people. Igersheim's sentencing is scheduled for Dec. 6 before Judge Joseph Cardoza.

~~~~~~~~~~~~~~~~~~~~~~~~~~~~~~~~~~~~~~~~~~~~~~~~~~

2012

Kihei Surpasses Lahaina in Calls For Police Response, January 31st, 2012, by Wendy Osher, Maui Now. The South Maui District of Kihei has surpassed West Maui's Lahaina District, in terms of the number of service calls that officers respond to each month, police say. In the area of illegal substances, Maui police say there were a total of 58 drug related incidents documented in South Maui in the fourth quarter of 2011 including: 37 for marijuana; 4 for ice; 2 for cocaine; 1 for heroin.
Factbox: Medical Marijuana in the United States, April 20, 2012, By REUTERS. (Reuters) - "Voters in Colorado and Washington state will decide in November whether to legalize marijuana for recreational use... A total of 16 states and the District of Columbia allow medical marijuana... Colorado voters approved medical marijuana in 2000... Washington state voters legalized medical marijuana in 1998... Arizona voters approved a measure in 2010 to allow medical marijuana... California voters passed a ballot measure in 1996... Montana voters approved medical pot in 2004...
Use of indictment, wiretaps OK'd in drug case, Police allege group exploited laws to sell marijuana to hundreds of people, May 27, 2011, The Maui News. WAILUKU - Second Circuit Judge Joseph Cardoza has denied defense requests to dismiss an indictment and suppress evidence obtained through wiretaps against defendants charged with conspiracy in a marijuana trafficking operation linked to a Paia medical marijuana group (PWT).
Lawyer says someone has to break law in chain of supply, No laws in place to protect source of medical marijuana, June 29, 2012, by Melissa Tanji, The Maui News. Defense attorney Chris Dunn told Judge Joseph Cardoza that Hawaii's medical marijuana law allows the medical marijuana patient and his or her caregiver to handle marijuana legally, but it offers no protection for someone to supply the marijuana. "Someone has to break the law for the patient to get that medicine," said Dunn, who is representing Brian Murphy, director of Patients Without Time, a medical marijuana patient cooperative that had been operating in Paia. Dunne said that Murphy required patients to show proper documentation before they were given legal amounts of marijuana. In court Thursday, Murphy brought a small portion of his 1,200 patients files.
Medical marijuana user gets $1,000 drug charge fine, August 19, 2012, by Lila Fujimoto, The Maui News. Frederick Bacolini, 69, was ordered to pay a $1,000 fine on a drug charge after police seized 23 marijuana plants from his residence three years ago. He was given credit for 12 days he previously spent in jail. Police seized the marijuana after seeing the plants during a flyover of the property on Ikaika Place, and then obtaining a search warrant, said Deputy Prosecutor Tracy Jones. Police reported that a check showed Bacolini had a valid medical marijuana permit.
"Man says doctor directed him to place linked to drug distribution, September 8, 2012, by LILA FUJIMOTO, The Maui News. John "Chris" Cooper, 42, was sentenced Thursday for his part in an alleged marijuana trafficking operation. Cooper pleaded no contest to a charge of second-degree promotion of a detrimental drug. He was ordered to pay a $500 fine and was given a chance to keep the conviction off his record if he complies with court requirements for one year. Cooper was among seven defendants arrested in November 2008 as part of "Operation Weedkiller." The police investigation centered on Patients Without Time. Police said the group, founded by Brian Murphy, exploited medical marijuana laws to sell the drug to hundreds of people." A Jan. 14 trial date is set in 2nd Circuit Court for Murphy, and three other defendants. Two other co-defendants have entered no-contest pleas in their cases. Deputy Prosecutor Timothy Tate said it's still illegal to distribute marijuana.
~~~~~~~~~~~~~~~~~~~~~~~~~~~~~~~~~~~~~~~~~~~~~~~~~~

2013
Maui Police strongly oppose Medical Marijuana Legislation. Maui Vortex, by Mary Whispering Wind, Feb.17, 2013. The Maui Police Department, continuing their history of opposition to medical marijuana legislation in Hawaii, strongly opposed the passage of H.B. No. 667 , and H.B. 668 , in testimony submitted to the Hawaii Legislature, on Feb. 7, 2013. Maui Police Chief Gary Yabuta testified that the bill left many questions unanswered regarding regulation authority, burden of proof issues, amounts of marijuana that may be possessed and transported, and enforcement procedures. The questions raised by Chief Yabuta, in his written testimony, echoed the concerns of many medical marijuana patients, who have been asking how they may legally acquire their medical marijuana in Hawaii, since it was legalized in June, 2000.
Marijuana Advocates Celebrate Enactment of 2 Bills, June 25th, 2013, by Wendy Osher, Maui News. Governor Neil Abercrombie today signed two bills into law relating to the administration of medical marijuana. House Bill 668 effectively authorizes the transfer of the medical marijuana program from the Department of Public Safety to the Department of Health and establishes a Medical Marijuana Registry special fund. Senate Bill 642, amends the definitions of "adequate supply," "medical use," "primary caregiver," "usable marijuana," and "written certification."

Both measures take effect in January of 2015.
~~~~~~~~~~~~~~~~~~~~~~~~~~~~~~~~~~~~~~~~~~~~~~~~~~

2014
New survey shows support growing to legalize marijuana in Hawaii, Jan 31, 2014, by Ben Gutierrez, Hawaii News Now In one part of the survey, 66 percent of 400 Hawaii voters polled supported legalizing the use of marijuana for adults and collecting taxes from pot sales. That's up from 57 percent in 2012. Just 37 percent favored legalization in 2005. The poll also said 77 percent believe jail time is inappropriate for marijuana possession, up eight percentage points from 2012. T he poll also found that a big majority -- 85 percent -- supported a dispensary system for medical marijuana.
Lawmakers on track to create marijuana dispensary task force, Mar. 22, 2014, KITV.com. The House Health Committee voted 7 – 0 Friday to create a task force that would examine issues surrounding the development of a medical marijuana dispensary system in Hawaii. Medical marijuana oversight will also move from the Department of Public Safety to the Department of Health, under Act 178 passed last year by the state Legislature.
Smart Approaches to Marijuana Existing policy and the issue of legalization discussed at community meeting. April 8, 2014 Frances Duberstein - Contributing Writer , Maui Weekly. Keith Kamita, chief special agent of Hawai'i's Narcotics Enforcement Division discussed the 60-plus marijuana-related bills and resolutions introduced during the 2014 Hawai'i legislative session thus far. He explained how Hawai'i's current medical marijuana laws work, and described new synthetic marijuana forms being created and marketed to the general public. Synthetic marijuana is becoming increasingly popular among youth and, despite being legal in Hawai'i, poses serious health risks, including major hallucinations. He highlighted news stories about crimes committed while high on synthetic drugs--such as someone trying to eat a dog.
PAKALOLO, PATIENTS, AND THE POLICE SEPTEMBER 02 2014, Mar. 22, 2014, KITV.com. If you're a medicinal cannabis patient in Hawaii, the name Brian Murphy may sound familiar. Murphy is the director of the Maui-based medical cannabis co-op Patients Without Time. He is also one of several Maui residents who were arrested for marijuana drug trafficking back in 2008, a result of the Maui Police Department's "Operation Weedkiller" initiative. Murphy is claiming entrapment in a six-year criminal court case. At 8 a.m. Thursday, Sept. 4, there will be a hearing in the Second Circuit Court in Wailuku, Maui. Patients Without Time is encouraging supporters to attend.
No contest plea for marijuana charges September 20, 2014, The Maui News. The head of a Paia-based medical marijuana advocacy group pleaded no contest to a trio of drug charges dating back to 2008 on Friday in 2nd Circuit Court. Brian Murphy, 59, of Makawao pleaded to criminal conspiracy, second-degree commercial promotion of marijuana and prohibited acts related to drug paraphernalia. Murphy had originally been charged with 11 felony drug counts. He is scheduled for sentencing Dec. 4.
~~~~~~~~~~~~~~~~~~~~~~~~~~~~~~~~~~~~~~~~~~~~~~~~~~

2015
CROSSROADS - Free Brian Murphy, Jan. 20th 2015, from Akaku Maui Community Media, Hawaii's medical marijuana program, and the unjust incarceration of Maui's well-known medical marijuana advocate Brian Murphy, were the topics of the CROSSROADS show, which was broadcast live on AKAKU, on January 20, 2015. The show's host Lucienne de Naie welcomed guests Dr. Joseph Lenz, Psychologist, PhD, and Mary Whispering Wind, volunteer representative for Patients Without Time, who is filling in for Director Brian Murphy while he is in jail. Call for release of PWT Director Murphy from jail!
_________________________________________________________________________
Maui Daily Show - Free Brian Murphy, Feb. 12th 2015, from Akaku Maui Community Media, Members of JUSTICE FOR BRIAN MURPHY, Mary Whispering Wind, Sam Small and Richard Krist discuss all the details about the latest on the Brian Murphy - medical marijuana case. Call for release of PWT Director Murphy from jail!
________________________________________________________________________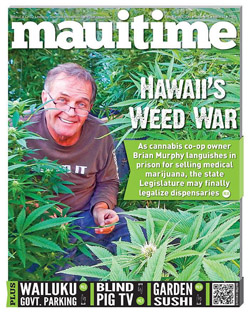 As cannabis co-op owner Brian Murphy languishes in prison, the Hawaii Legislature may finally legalize medical marijuana dispensaries
MAUI TIME, HAWAII's WEED WAR, 2/26/15, BY ANTHONY PIGNATARO, cover design: Darris Hurst. To say that Murphy has a lot of supporters is an understatement. In fact, there are currently 8,000 signatures on a petition asking Hawaii Governor David Ige to commute Murphy's sentence.
Judge Cardoza rejected his recent motion to do the balance of his prison sentence at home with electronic monitoring equipment. "The rationale was based on health concerns for Mr. Murphy," Dunn said.

_________________________________________________________________________
FREE BRIAN supporters at EARTH DAY 2015, JUSTICE FOR BRIAN MURPHY and FREE BRIAN supporters gathered signatures to support Brian Murphy, Director of Patients Without Time, and to raise awareness of Hawaii's unjust marijuana laws, at the EARTH DAY FEST, on Sunday, April 19, 2015 at the Keopuolani Park Amphitheater. Over 8,000 signatures gathered so far.

_________________________________________________________________________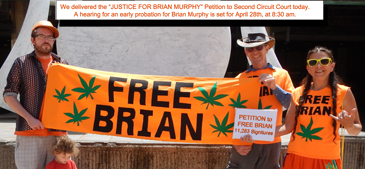 Petition to Hawaii GOVERNOR PLEASE COMMUTE Brian Murphy's Prison Sentence, presented by Justice For Brian Murphy. It is a travesty of justice that Brian Murphy, a disabled veteran with serious medical issues stemming from his service, has been sentenced to a year in jail for the same activities for which the 2009 State House of Representatives congratulated PWT. To this day, there is still no procedure in Hawai'i for registered patients to legally acquire their medical marijuana. Victory! This petition made change with (over) 11,010 supporters! Petition delivered to Hawaii's governor, and Maui Circuit Court.
Cannabis co-op owner Brian Murphy freed from prison, MAUI TIME, MAY 8, 2015, BY ANTHONY PIGNATARO. After five months in prison, Patients Without Time cannabis co-op founder Brian Murphy has been freed, according to Wailuku attorney Chris Dunn. According to Dunn, Judge Joseph Cardoza released Murphy on Thursday, May 7 in response to Dunn's second motion to modify the terms and conditions of Murphy's probation. Cardoza also suspended the remaining seven or so months of Murphy's year-long sentence for selling marijuana. ... on the same day Judge Cardoza released Murphy the state Legislature passed HB 321, CD 1, which finally legalizes eight medical marijuana dispensary licenses for Hawaii.
CROSSROADS - with Brian Murphy, July. 7th 2015, from Akaku Maui Community Media, Director Murphy talks about his incarceration and Hawai'i's marijuana laws on the Crossroads show with Lucienne De Naie.
______________________________________________________________________________


Founded in Maui, Hawaii in 2005. Contact us with any medical marijuana questions.
PWT can help you.