Aloha,
Today, Dec 5th, I was sentenced to 1 year in a jail for charges originating, in 2008, from operating "Patients Without Time (PWT)," Maui's medical marijuana co-operative, which we founded in 2004. We helped over 3000 MMJ patients deal with Hawai'i's overly vague marijuana laws.
PWT operated, with an open door policy for 4 years, at the same location, in Paia, Maui! We produced 24 legislative Bills, and worked them through Hawai'i's House & Senate, and we registered over 5000 Maui residents to vote.

In 2009 STATE OF HAWAII issued a certification to PATIENTS WITHOUT TIME for "assisting Hawai'i's certified medical marijuana patients with the acquisition of their medical marijuana.

However, "No Good Deed Goes Unpunished;"

MPD & the prosecutor created a case against us where we could not mention Patients Without Time or Maui County Citizens For Democracy In Action! The Judge denied all of our Motions! He would not let us put on any information or evidence regarding the 2,800 members of Patients Without Time or Maui County Citizens For Democracy In Action!

I was faced with possible 250 years in jail or take a plea deal, so I plead "No Contest" to limit my jail time to no more then 1 year in a jail, and after getting released I'll be able to return to using medical cannabis, which is vital to my health. The judge gave me the maximum of 1 year in jail.

I have an assortment of medical problems including Complex Migraine Seizures (Epilepsy), Spinal Stenosis, Radiculopathy, PTSD, Fisher Fracture L Knee [which gives out], and sleep disorders. Cannabis provides relief & improvement for all of these conditions. It's been over 15 years since I've needed to use any pharmaceutical drugs.

I have used an average of 1 gram of refined Cannabis oil (RSO) per day; I use both capsules & vaporization as my delivery methods and it has works very effectively, allowing me to abandon all of my prescription drugs.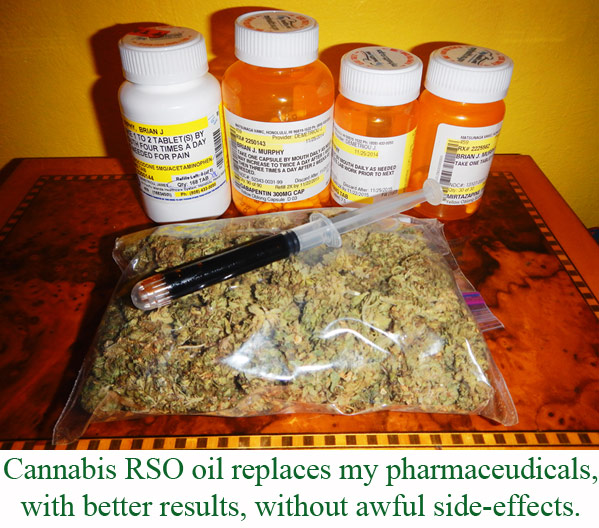 Now that I am incarcerated, I will no longer be able to use RSO oil while in jail. Therefore, Veterans Administration doctors have prescribed the following pharmaceutical drugs to replace my 30 grams of RSO oil per month: HYDROCODONE 5MG/ACETAMINOPHEN 325 TAB – 168 tabs per month, GABAPENTIN 300MG CAPS - 30 CAPS per month, MELOXICAM 7.5MG TAB - 30 CAP per month, MIRTAZAPINE 15MG - 30 TAB per month. The result of losing access to cannabis medication means I will suddenly change from NO PILLS to 258 pills per month & all these meds still do not deal with my Complex Migraine Seizures (Epilepsy)!

Daily cannabis use has kept my epileptic seizures at bay. So if they put me in jail, I will have nothing for my CMS. Before I began cannabis, doctors prescribed Cafergot, Imitrex & Triptans, which caused debilitating side effects. Without any medication, I may have another seizure/stoke!

Cannabis has provided superior relief over any of the pharmaceutical drugs I have tried. I have seen thousands of medical marijuana patients receive similar positive results. Being jailed for helping patients get their medicine will not stop me, I will continue to be a dedicated advocate for the rights of all medical marijuana patients, and Patients Without Time can still help you with any questions you have about the Medical Marijuana Program in Hawai'i.

Brian Murphy, DAV
Director, Patients Without Time