Helping medical marijuana patients on Maui since 2004.
Contact us with any medical marijuana questions.
It is important to know that a registered patient, or designated caregiver, MUST place on each of their medical marijuana plants, an identification tag that CLEARLY shows their 329 registration number, and expiration date. The tag shall be tied to, or encircle, the base of each plant. Click here for the DOH's tagging guidelines.

WARNING: Untagged marijuana plants, or improperly tagged marijuana plants, are subject to confiscation, and removal, by law enforcement. The grower or property owner is not guaranteed the protections available in chapter 329, Hawaii Revised Statutes, even if they possess a "329 card." >Read HI Health Dept rules.

______________________________________________________________

Expert advice on building and growing
Contact us with your questions.
Marijuana is Medicine!
Why I changed my mind about medicinal cannabis
by Hugh Hempel, TEDx University of Nevada
Hugh Hempel is a technology industry veteran turned health care entrepreneur. In this moving talk he discusses how medicinal cannabis has enriched the lives of his ailing 11 year-old daughters. This talk will challenge your views of medical marijuana.
Director Murphy talks about Hawai'i's marijuana laws
on the Crossroads show with Lucienne De Naie
Brian Murphy has been the Director of PATIENTS WITHOUT TIME since it was founded in 2004, and actively supports patient's rights. PWT has helped thousands of patients, been honored by the Hawaii Legislature, had the staff arrested, and Director Murphy was sent to jail for 5 months last year.

We have had over a decade of some successes, and many defeats. There is still much to do to establish safe access to medical marijuana for Maui's seriously ill medical marijuana patients. No one should go to jail for growing marijuana.
Fortunately, medical marijuana dispensaries will open on Maui, as early as July 15th of 2016. Current law allows patients, with "329 cards," or their caregivers, to grow up to 7 plants (at any stage) and possess up to 4 ounces of medical marijuana.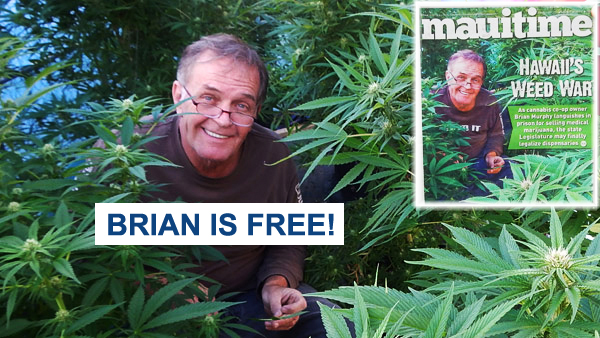 "Helping medical marijuana patients acquire safe access to an adequate supply of their medicine is a "calling," not a crime."
Director Brian Murphy received 100's of letters of support, while he was serving time in the Maui County jail. Supporters circulated a petition to release Director Murphy. They gathered over 11,000 signatures, held demonstrations, and setup a booth at the Earth Day festival!

Ironically, Director Murphy was released from jail on May 7, 2015 (the same day that the dispensary bill was passed).