Founded in Maui, Hawaii in 2004. Contact us with any medical marijuana questions. Unfortunately there is still no legal way to acquire marijuana in Hawai'i, even with a state registration (329 Card, formerly called a blue card), except to grow it.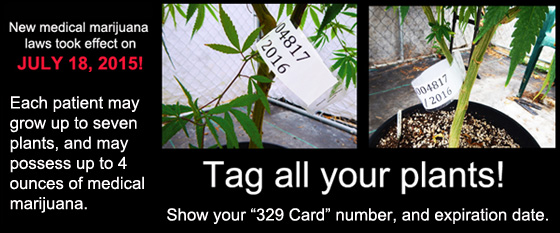 Any registered patient or caregiver who is designated to grow medical marijuana MUST place on each of their medical marijuana plants, an identification tag that CLEARLY shows their 329 registration number and expiration date. The individual (patient or caregiver) who the qualifying patient has designated in the DOH registration application to cultivate marijuana is RESPONSIBLE to ensure that all plants are tagged. Plants that are not tagged or that are improperly tagged are subject to removal by law enforcement. Click here for the DOH's tagging guidelines.

The tag MUST meet the DOH guidelines. The tag shall be tied to or encircle the base of each plant and shall be clearly visible on the outside of the plant. The tag MUST meet the DOH guidelines. The tag shall be tied to or encircle the base of each plant and shall be clearly visible on the outside of the plant.

WARNING: Untagged marijuana plants or improperly tagged marijuana plants (not meeting the above requirements) are subject to confiscation and removal by law enforcement, and the grower or property owner is not guaranteed the protections available in chapter 329, Hawaii Revised Statutes. >Read HI Health Dept rules.
______________________________________________________________
Materials and supplies available
Expert advice on building and growing
Contact us with your questions.
Director Murphy talks about Hawai'i's marijuana laws
on the Crossroads show with Lucienne De Naie

Marijuana dispensaries will open as soon as July in 2016 in Hawai'i. Unfortunately, until then there is no legal way to buy medical marijuana in Hawai'i. You must find someone to give you marijuana seeds, clones, or plants, or a caregiver to provide them for you.
Few patients can actually grow their own marijuana, and many, perhaps most, patients buy from the illegal recreational market. Once patients get their marijuana home, Hawai'i law protects them from prosecution by the State of Hawai'i. However, marijuana use, sale, or possession is still against federal law.
There is a better way. Legalization of marijuana would create thousands of legal businesses, raise substantial revenue, and finally grant patients safe access to an adequate supply of their medication.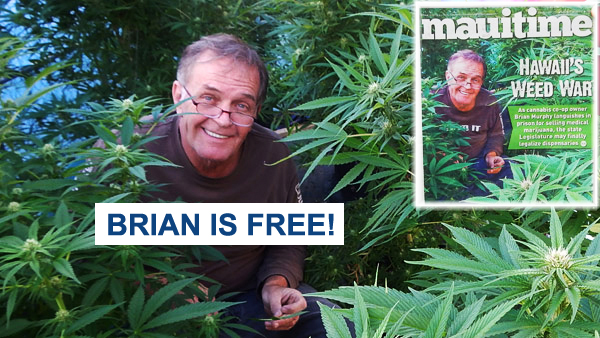 "Helping medical marijuana patients acquire safe access to an adequate supply of their medicine is a "calling," not a crime." PWT Director Brian Murphy served 5 months of a one year sentence in Maui jail for helping thousands of Hawai'i's registered medical marijuana patients acquire their medicine. Director Murphy was released from jail on May, 7, 2015 (the same day that the dispensary bill was passed).
Mahalo Nui, for the support you've shown Director Brian Murphy in your letters, petition with over 11,000 signatures, demonstrations, and the booth at the Earth Day festival! Director Murphy was released from the Maui jail on May 7, 2015! We welcome him back to continue his work helping medical marijuana patients gain safe access to their medical marijuana.
Watch a video retrospective of our political actions, obstacles, and victories.
Some 13,000 people use medical marijuana here, but there's still no way for patients to legally buy pot. KITV 4, June 24, 3014.
Patients still can't legally buy pot, 14 years after medical marijuana law took effect, Hawaii News Now, Sept, 27, 2014.

"In 2000, the Legislature enacted the Medical Use of Marijuana law, which has been codified as Part IX of Chapter 329, HRS, the Uniform Controlled Substances Act. The law allows for the possession of medical of marijuana, by qualifying individuals, under certain conditions, and includes fees and registration requirements for medical marijuana patients and their caregivers, but does NOT provide a legal precedure to acquire medical marijuana.